Instamojo offers Trial accounts that let you try out all the features, with limits on total payments you can collect per month. ( See: What is a Trial Account for details.)
When you are convinced that Instamojo fits your expectations and workflow, you can upgrade to a verified account to remove the limits of a Trial account. If you plan to collect more than Rs. 9,999.00 per month, you need to upgrade your account by submitting KYC (Know Your Customer) to verify the payout details provided during sign-up.
After you have submitted KYC and verified your account, you can collect payments totaling more than Rs. 9,999.00 every month - all other features remain the same.
Read more about your account, on collecting payments for services or selling a product online.
KYC (Know Your Customer) FAQs
How do I upgrade to a verified account and remove the limitations of the trial account?
A full account requires verification of the PAN and bank details you provided when signing up.
We also require additional information such as the description of your business or a link to the official website or business social media accounts to understand and verify the business category.
To upgrade your account click on the "Submit KYC" button on your Dashboard and follow the instructions.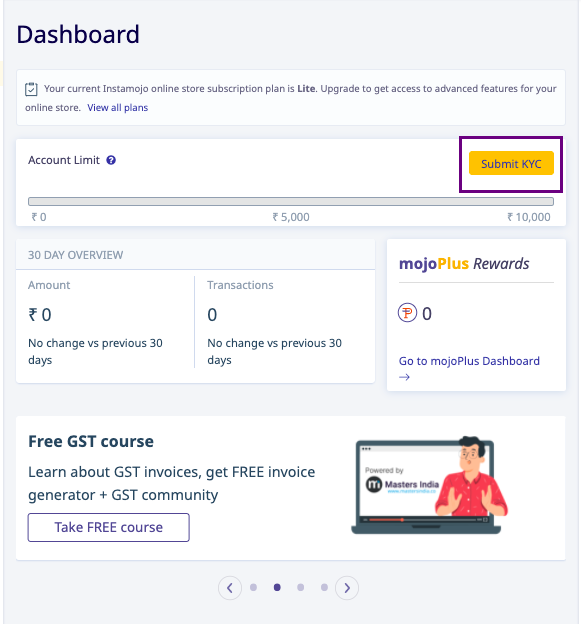 How long will it take to upgrade my account?
Once you submit your documents for KYC, we will manually verify that the documents match the details provided during sign-up and remove the limits within two business days.
In case a provided document needs clarification or if additional documents are required for your business category, we will get in touch with you via the email address used to sign up.
Please note that it may take longer than two business days if your business category requires further verification or if the documents provided are not sufficient for verification.
What documents are required to upgrade to a verified account?
Most individuals and business organizations need only two kinds of documents:
PAN card

Your (individual) or business (organization) PAN card.

Proof of bank account

Frontpage of Recent Bank Statement
Frontpage of Bank Passbook
Frontpage of Chequebook
For proof of bank account, the uploaded document must clearly display the following information:
Account holder name.
Account number.
IFSC code.
Address.
For some business categories, additional documents are required, for example:
Proprietors: Proprietorship Registration Certificate.
NGOs: Trust Deed, Audited balance sheet.

NGOs requiring international donations: FCRA certificate.

Financial Advisors: Investment Advisor Certificate.
In case your business requires additional documents, we will contact you at the registered email address. Please refer here for more details.
What happens if my trial account crosses the Rs. 9,999.00 limit?
If you collect payments that total more than Rs. 9,999.00 in a single month, your payouts are put on hold and further payments to your account are disabled until the account is upgraded.
We encourage you to upgrade your account once you are comfortable using Instamojo to avoid unexpected downtime. Instamojo also sends out reminders via email when your account is close to the limits.