What is a Payment Link?
A payment link is simply an online payment method where the merchant can create a payment link online and share it with the customers to make a hassle-less payment.
How to create a payment link and start collecting payments online using Instamojo?
As a merchant, you can create a payment link from your Instamojo Dashboard, by using our payment link generator. You can also set a purpose of payment on this link and share it with your customers across any communication channel like WhatsApp, Email, SMS, Facebook, etc.
Read our blog on How to Use Instamojo Payment Links for more detailed information.
Payment links will not clutter your online store, hence they can be used for integration on your website as well. This is the simple "Pay with a link" that creates a personalized link with a payment purpose for you:
Here, you will find 2 different options named "Quick Link" and "Smart Link". While creating a quick link, you can give the Reason for payment and Amount to create a payment link.

In a smart link, you get more features to customize your payment link. Below screenshots will give you an overview of the available options in a smart link: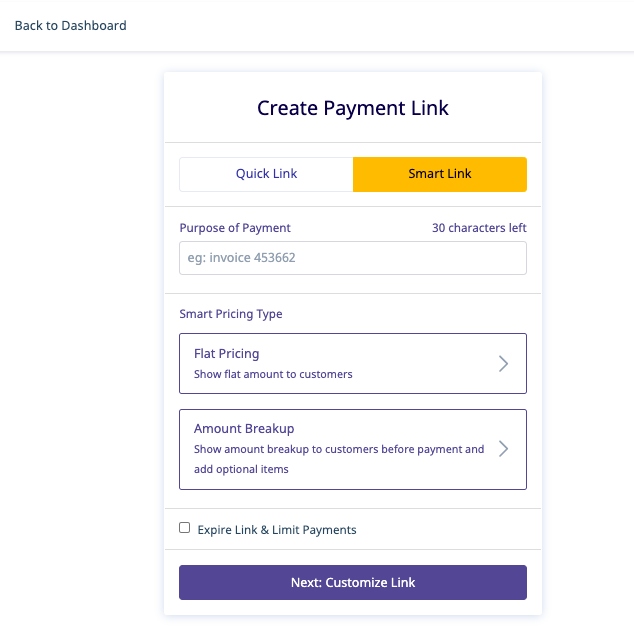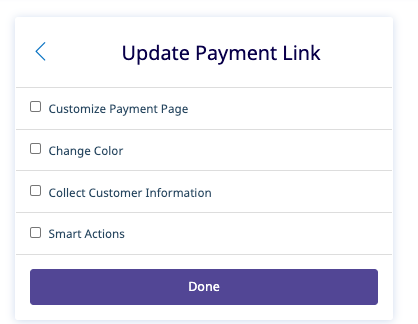 Once you click on create/done, you will reach the page where the link is visible and you can also share the payment link by using Whatsapp/Email/generate a QR code/ use the link as a payment button. Else, you can copy the link and share it on your blog or your page.
Tip: If you create the link on your mobile device, you can share the link using SMS too.