Did you know now customers can use NEFT as a payment method to make payments via Instamojo? Yes, we have added NEFT payments too to our list of modes. This article is to introduce you to the flow of the same.
Enabling NEFT as a payment mode to collect payments from customers: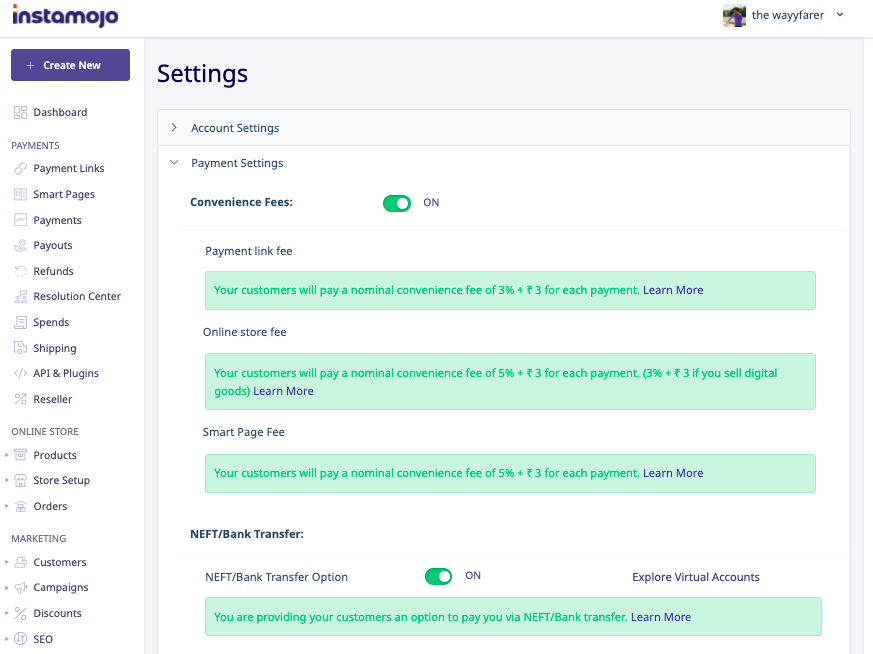 Just toggle the On/Off button to enable/disable NEFT payment mode for your account.
If you wish to create Virtual Accounts for your selected customers, simply click on Explore Virtual Accounts.
This will lead you to the Virtual Accounts page, where you can add virtual accounts: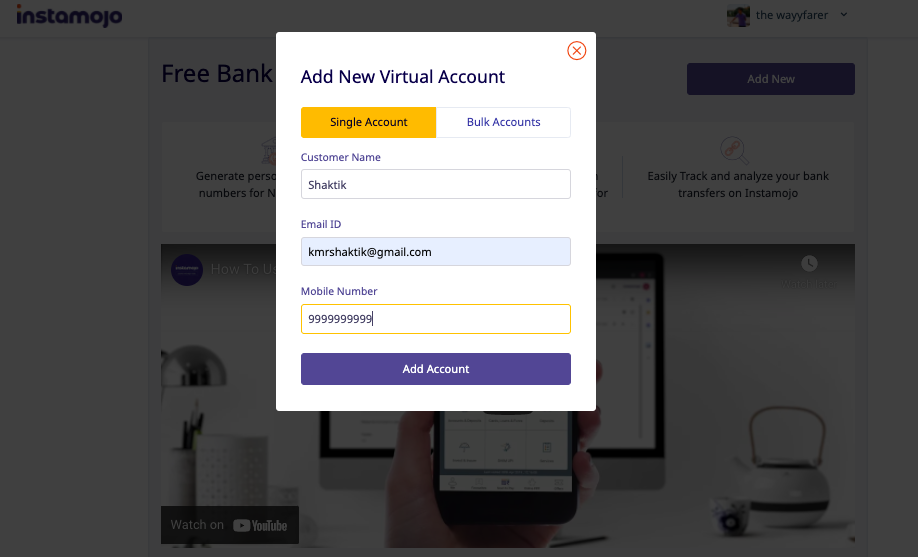 Once a virtual account is created, you can view the same on the page: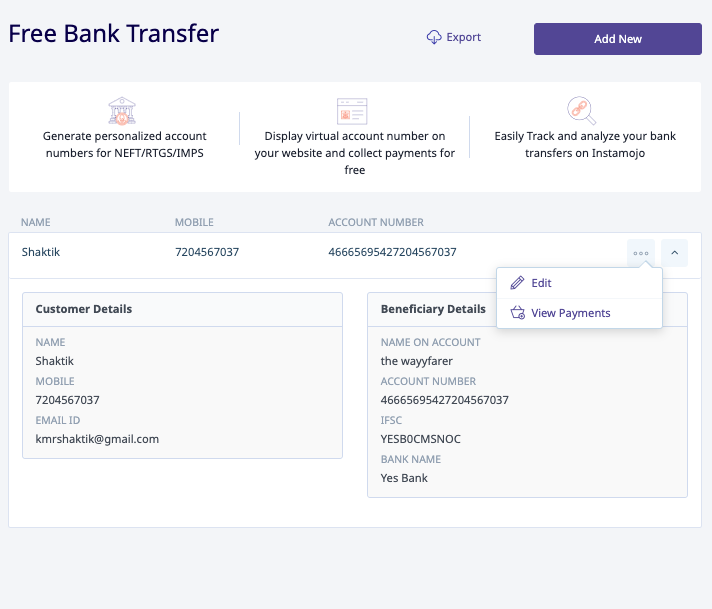 Here, you can see the Virtual account details that you can share with your customers, to do the transfer to. You can also edit the details at any time, and view the payments(if any made) using that account details.
How do customers make payments using NEFT?
The customers can simply add the virtual account details as a beneficiary in their banking app, and do the normal NEFT transfer to the virtual account.
There are 2 ways customers can get the Virtual Account details: One, as I had mentioned above, you can create the account details and share the same with the customer; and two, the customer will have the option to select NEFT as the payment mode on any of your Instamojo links, as shown below:

Once the customer selects NEFT/Bank Transfer, a virtual account will automatically get created based on the customer details(phone number, email ID) and be shown to the customer on the payments page:

Note: Instamojo NEFT is FREE of cost to your business. Instamojo does not levy fees on the NEFT payment option Unless the convenience fee is enabled. If the convenience fee is enabled for the account, then the customer will have to pay the convenience fee charges during the time of payment. For more information check this article on convenience fees.
FAQs:
What is the virtual account and how is it created?
A virtual bank account is created based on the customer's details and is generally 20 characters long. This account number will be linked to the merchant's Instamojo account and hence any payment that comes into this account will automatically be routed to the merchant and paid out based on the merchant's payout cycle on Instamojo.
Is there any additional transaction fee for NEFT payments?
Not at all. NEFT is free of cost to your business. Instamojo does not levy fees on NEFT payments. Unless the convenience fee is enabled for the account. You can refer here to know more about the benefits of NEFT payments.
You can also refer here to know more about how the NEFT payments flow works: