This article will help you in understanding how to add an event product and start collecting payments online?
Login to your Dashboard and click on 'Add Product'.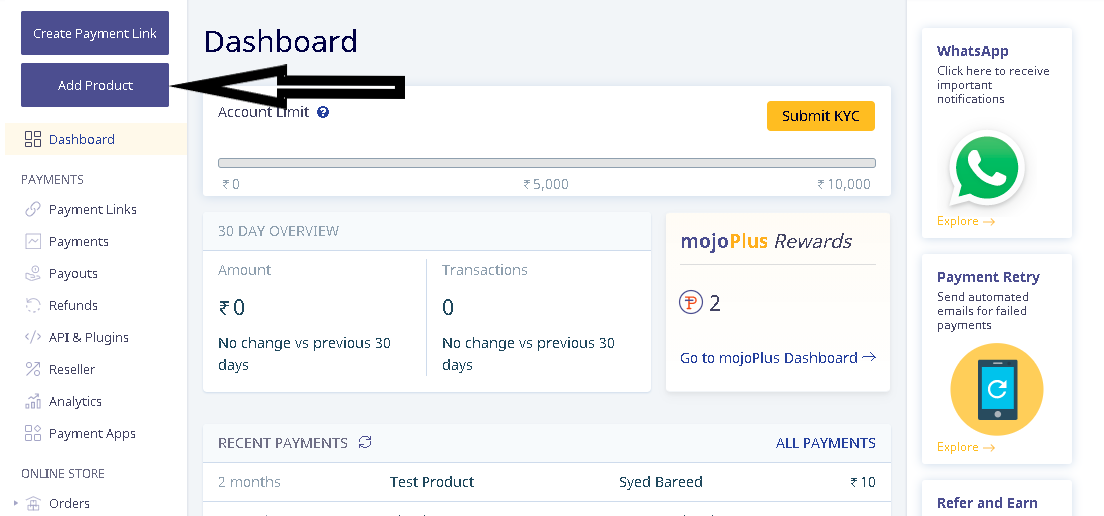 If you are conducting live concerts/online events, you can create the product link under the events category and collect the payments online.
Here's how you can create an Event Product link
From the left panel in your dashboard go to Add a product -> Event Ticket.
Note: All the fields available in the physical product links are available in the Event Ticket link. Additionally, you will have an option to set the Event Start Date and Event End Date along with the venue details.
Event Ticket
Below are the details of the features that you can use while creating a Event Link:
1. Title: Your Event name
2. MRP: The base price of your Event
3. Discounted price: The discounted price of the Event
4. No. of Units: Number of Event Tickets available.
5. Choose the category: Choose the category under which your Event falls. (Before you choose a category, you will need to create categories for your store).
6. Maximum order quantity: It refers to the maximum number of Event tickets that a customer can buy at a time.
7. Minimum order quantity: It refers to the minimum number of Event tickets that a customer can buy at a time.
8. Event Starts On: Enter the event start date and time.
9. Event Ends On: Enter the event end date and time.
10. Venue: Enter the venue details where the event is conducted.
11. Variant: If your Event comes in different prices/features/facility, you can make use of the Variants option. Here you will be able to create different variants for your Event Ticket based on your requirement.

12. Add variants: Click on variants, add a variant called 'Member' and add possible options available for the variant-member. For example, a member variant can have options like Platinum, Gold, Silver, etc. Similarly, you can add variants for Location, Features etc.
Add the variant name in the 'Colour/Size/' field and click the tick icon, add its value in the 'Value' field and click the tick icon.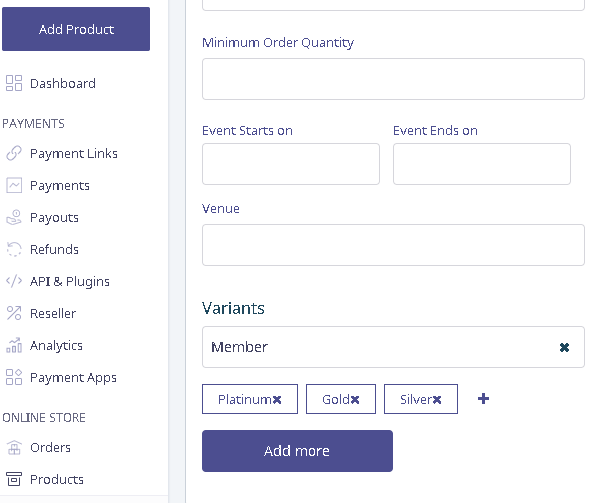 Advanced Settings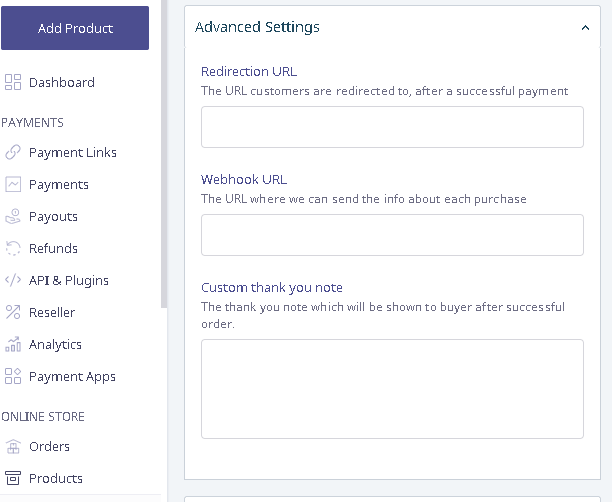 13. Redirection URL: This is the URL customers are redirected to after they make a successful payment. If you have a landing page where you would like your customers to come to after they have made the payment, use this box to enter that page URL.
14. Webhook URL: The webhook URL is the URL where we can send the info about each purchase to you.
15. Custom thank you note: A note to your customers, it shows a message to your customers in the email purchase receipt.
16. SEO Options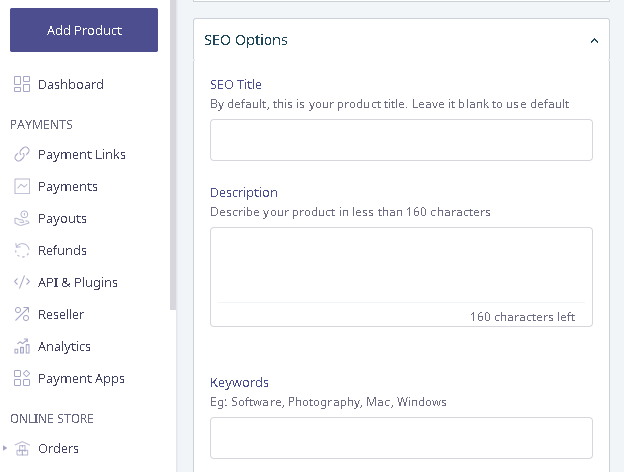 In case you want to control the way search engines (SEO) handle this SEO for payment link, you can enter the settings.
17. Additional Details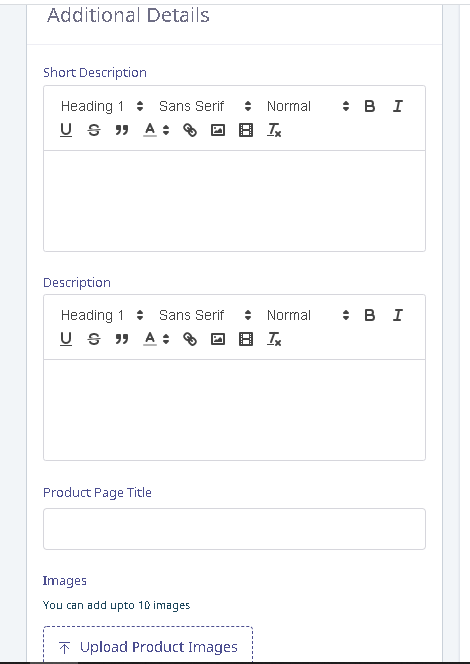 Short description: Add a 1-2 line description of your product (maximum 500 characters)
Description: Detailed description of the product covering its features and other information you would want your customer to know.
Product page title: Page Name displayed at the tab of the browser. This title can also be used for on-page SEO.
Images: Upload images of your product. You can upload up to 10 images for the Premium online store.
Finally, click on Add this Product and this will take you to your newly created Product link. You can share this link with your customers or in your social circle to increase traffic on the same. This also appears as a product card on your online store.