What Are Chargebacks? Everything Merchants Need To Know

If you are a merchant that accepts credit and debit cards for your online business, you may have come across the term chargebacks. What does it mean? Here is everything you need to know about chargebacks and how they can affect your business.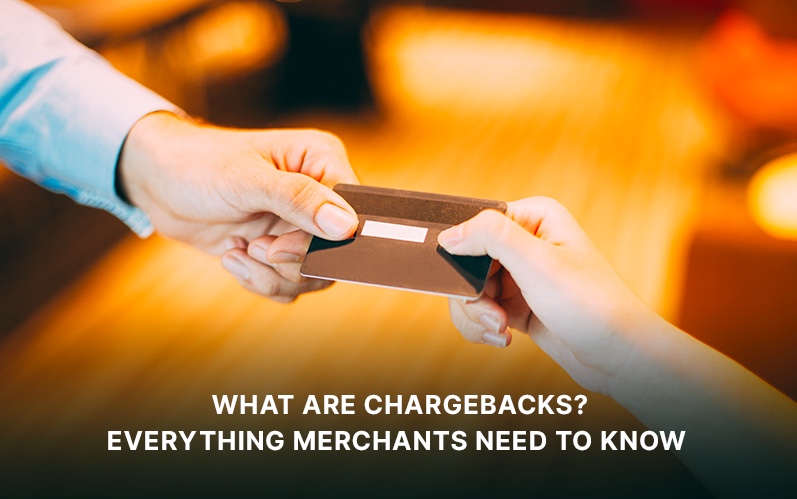 What are Chargebacks?
When your customer disputes a transaction, the customer's bank (issuing bank) allows them to file a complaint and demand a refund from you – the merchant.
Your bank will debit the disputed funds from your account and place these funds on hold, pending the outcome of the case.
Your customer's bank will then initiate an investigation into the transaction. If the dispute is found to be legitimate, the held funds will be credited to your customer's account.
If the customer's claims are discovered to be without merit, the held funds will be reversed to the merchant's account. The process of filing a dispute is called a chargeback.
Why Should Merchants Worry About Chargebacks?
Chargebacks can be damaging for a merchant account. You don't just stand the risk of losing your money and products but also your reputation.
Think of it as damaging your credit score. If your business account gets too many chargebacks, Credit Card companies may think you are a fraudulent company. You may also lose the ability to accept payments via cards.
Kinds of Chargebacks
When can a customer initiate a chargeback? The customer can raise a dispute against any transaction. With each chargeback, the customer's bank specifies a reason code.
Reason codes vary by bank networks (card association), but fall into four general categories:
1. Billing issues: Duplicate billing, incorrect amount billed, or promised refund never issued.
2. Quality: Delivered/ received goods or services that were not as promised at the time of purchase.
3. Fraud: Consumer claims they did not authorize the purchase or identity theft.
4. Fulfillment: The purchased services were not rendered or goods were not delivered to the customer.
What Happens Next?
A customer can raise a chargeback within 180 days from the date of the transaction. Once raised, the merchant needs to present documents to support their case within 2 to 8 days of the dispute raised. Banks close a chargeback case in 180 days.
Note: The customer may present a counterclaim to a merchant's representation. If the banks are unable to come to a consensus, then the case is escalated to the Card Associations for Arbitration.
How do I Prevent Chargebacks?
It's important to prevent chargebacks as a merchant. Here is what you can do to avoid chargebacks:
Have a clear return, refund, and cancellations policy on your website, explicitly stating terms and conditions.

Clear record of every transaction – such as copies of bills, invoices, transaction numbers, etc.

Maintain proof of fulfillment of each transaction- such as airway bill copies, signed delivery notes, proof of buyer rating the service well, etc.

Ensure a smooth resolution experience for your customers that also includes faster shipping and easy refunds.

Better communication. Let your customers approach you about a refund before they can take it to the bank level.
What Happens If I End Up Getting a Chargeback?
If at all, you end up getting a chargeback:
Firstly, you will be notified by the bank about the chargeback and the reason for the chargeback.

Secondly, you must accept the chargeback and refund the money if you are not able to produce proof.
You can dispute the chargeback by producing proof documents that validate the transaction
Avoiding Chargebacks with Instamojo
At Instamojo, we go the extra mile especially to help merchants avoid a chargeback.
In light of a valid chargeback on your transactions, it is forwarded to Instamojo first. And then to the merchant for resolution.
If you want to refute a chargeback, you will need to provide Instamojo with the following docs:
– Signed proof of delivery (PoD) ∙ Bill/ Invoice copy
– Proof of refund (if initiated offline)
– Product description as displayed to the customer
– Cardholder's statement/mail stating his withdrawal of chargeback (if applicable)
The chargeback is recorded in the Dispute Resolution Center in your Instamojo dashboard. It is where you can communicate with the customer and resolve issues resulting in the customer retracting the chargeback.
We have a chargeback management team that oversees the activities in our dispute resolution center. Further, this team will guide you to communicate with your customer and help resolve the issue.
Sign up with Instamojo for a better selling experience.
---